A Celebration of Commoning
A Celebration of Commoning was painted to Commemorate 100 years of the New Forest Commoners Defence Association. It was sold by auction at the 2009 New Forest Show, with all proceeds going to the NFCDA.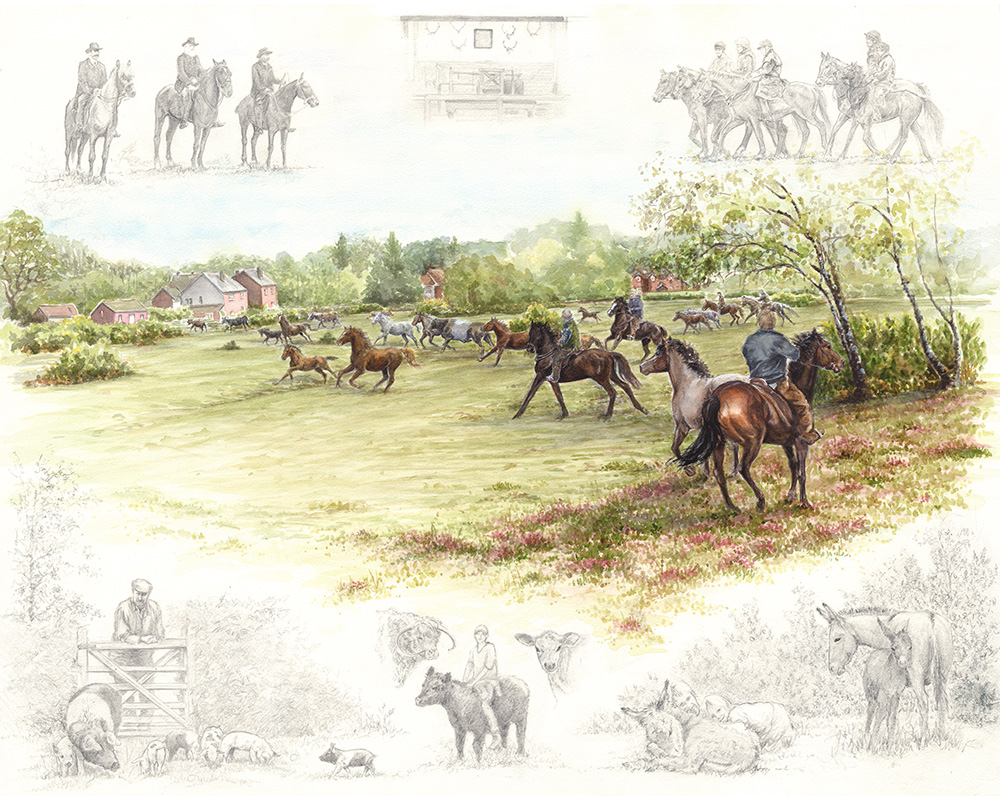 The central watercolour depicts a typical New Forest pony drift scene across South Weirs, Brockenhurst. It is surrounded by pencil sketches of local commoners and scenes depicting various aspects of commoning life.

The top section represents the administrative bodies of commoning.
Starting in the top left corner: Agisters of the past, Jesse Taylor, Charles Evemy, and Albert Evemy. The Verderers Court, overseeing the commoning community, then modern day faces, retired Head Agister, Brian Ingram, current Head Agister, Jonathan Garrelli, Verderer, John Adams, followed by two Agisters Robert Maton and Mike Lovell.
The bottom left hand corner portrays Richard Stride watching a litter of his piglets, then a young commoner, Jake Moore astride one of his young Galloways.
This is followed by Charlie and Lauren Maton, cuddled up to their donkey foal and overlooked by a proud Jenny and her foal. This bottom section of the picture represents the essence of commoning, the breeding of young stock!
The central section, comprising of a watercolour of a drift scene at South Weirs, Brockenhurst. Typical old commoners cottages overlook the green where from the foreground, working back, you can see Nicky Adams is turning Longmead Katie, (artists roan mare) back towards Simon Crouch and Trevor Adams. Then in the distance Luke Blomfield is followed by Steve Kitcher bring up another group of ponies.
Prints of this image are currently unavailable.