The Wonderful World of Wellies
Written by Lisa Esposito and Warren Glynn. Illustrations by Claire Kitcher
Over the last couple of years, I have been working with children's book authors Lisa Esposito and Warren Glynn on an exciting new project, the Wonderful World Wellies. Together, we have been developing a whole range of fun new Twellie Wellie characters, then illustrating the pages and producing the very first book in the Ollie and Ellie's Outdoor Adventures series and getting it ready to print.

The brief was very specific, the characters had to be fun and appeal to young children, but not too cartoon like. Background images had to be realistic and incorporate the authors' big brown dog and little black cat with one white whisker, so it was very much animal portraiture in miniature. Further details were chosen from the local area and placed in the Twellie Wellies fictional hometown of Wellington by the Bay.

The book is aimed at young children, following the main wellie characters, twins Ollie and Ellie and their Twellie Wellie friends on their outdoor adventures. This encourages exercise and the use of imagination whilst appreciating the surroundings and identifying the wildlife that they encounter. The reader has lots of details to find on each illustrated page, including little red wellies, Wizzie and Izzie. At the end of the book there is a map of Wellington by the Bay so that this journey and further adventures can be retraced.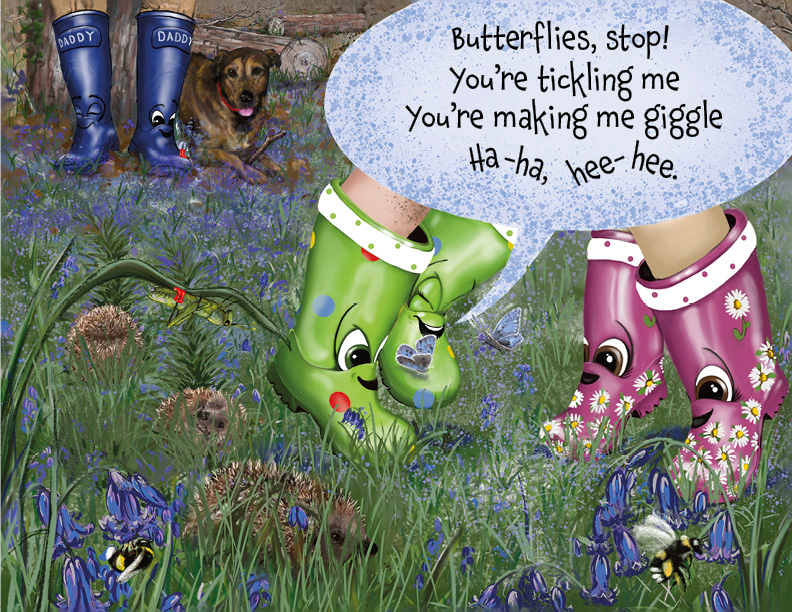 Initial sketches were made in pencil and watercolour. The final illustrations have been created on an iPad Pro using Procreate, with further work carried out in Adobe Photoshop before creating the 32 page book in Adobe InDesign. The initial print run will produced by Caktus printers in Christchurch.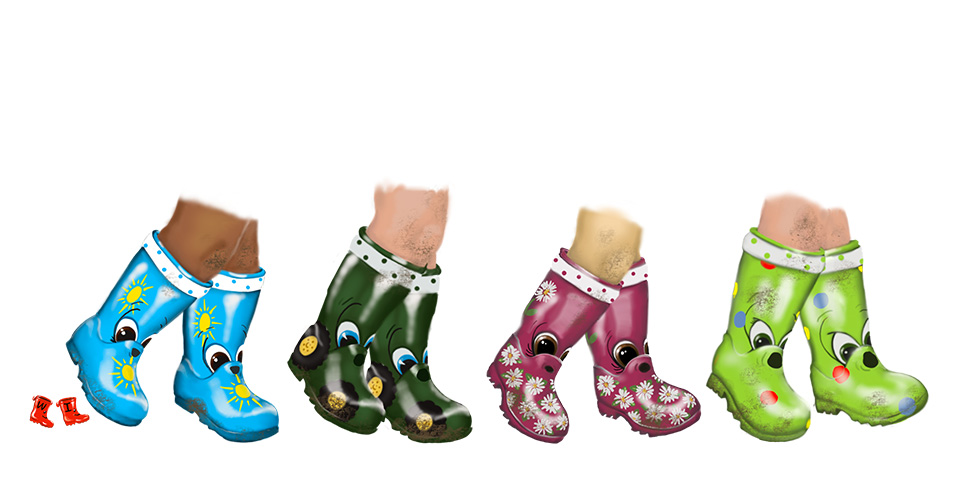 Models of all the story 1 Twellie Wellie characters were created for the book launch window display. This also really helped to ensure the individual markings were consistent throughout the book.
Where To Buy
The first book in the series will be launched in September 2022 and available from Bookends Bookshop in Christchurch, Dorset or online from www.whodeedoodeebooks.co.uk/ or the Book Depository
A CIP catalogue record for this book is available at the British Library. ISBN 978-1-3999-3086-4